Experimenter Painfully Cut Spines of Newborns on the Taxpayers' Dime
University of Delaware experimenter Tania Roth, a virtuoso of violence against animals, has added another sick sonata to her ghoulish repertoire, and we need your help to put a stop to her experiments.
Roth, who has a long and fiendish history of tormenting and killing mice and rats and calling it "science," has conducted a new round of experiments in which she slashed the spines of day-old baby rats. Behavioral tests were performed on some of the pups nine days later. Afterward, all the pups were killed and their spines were removed.
Before surgery, the babies were put into a freezing ice bath until they passed out, a painful process called hypothermia that Roth used instead of gas anesthesia. Her publication noted that after surgery, she administered just one dose of pain medication. There was no indication of any further pain relief.
The point of Roth's experiments is supposedly to examine changes in gene expressions in rats after their spinal cords are cut. But much like the full catalog of Roth's gruesome work, it's scientifically dubious, at best.
Testing on animals, especially in this area, is futile and unjustified, both scientifically and ethically. The spinal cords of four-legged rats, unsurprisingly, differ from those of two-legged humans. They heal differently, often with a greater ability and more quickly than humans'. So the results of this torture simply do not translate.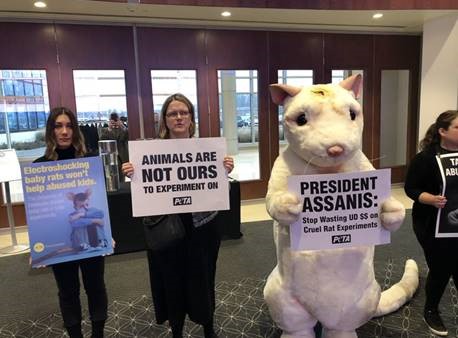 A giant "rat" and other PETA supporters attended the University of Delaware's Board of Trustees meeting to call for an end to Tania Roth's sickening and useless "child abuse" and spinal cord injury experiments on baby rats.
Roth's latest experiments are little more than curiosity-based endeavors that waste government money and needlessly snuff out the lives of animals. But the National Science Foundation (NSF) gave her money to conduct them anyway. It's time this was stopped.
Please take action to tell the NSF to stop funding these horrific and pointless tests. Go to link below to send an email via fields at the bottom of the page.