Seniors in Need Today Society (SAINTS) requires donations
SAINTS provides shelter and care for senior and special needs animals, of all different species. Their sanctuary is a haven where these special souls can be loved and cherished, and receive proper care, for the rest of their days. You can see their homepage here: SAINTS
They are in need of donations to function optimally. They recently sent out a note about their inability to run their usual fundraiser, together with an ask for more donations:
No Party… No Funds
We usually have our Wishes 4 Whiskers fundraiser in the fall. This fundraiser helps us get through the very lean summer months. And yet, for the second year in a row, we have to forgo doing this event. We heavily rely on it to pay our outstanding vet bills. The loss of the event is slowly being realized by our staff and volunteers. They understand what the real world cost of not having our W4W means. But our saintly residents are just sad there will be no party that celebrates them.
We may not raise $ 60,000 that a live event brings in but we are hoping that a plea from our saintly crew will raise some money for them. The animals told us their goal was to hit $10,000. Let's see if we can do that for our saintly crew.
Donate by clicking on the link https://saintsrescue.ca/donate
Here are some of their shelter updates:
Remember Mouse. She was our very popular Captain of the House Team for Amazing Raise Campaign. She passed away at the end of July. She was with us for four short months. We hope that in that time she felt loved, cared for, and protected.

Mouse came to us as her person had been hospitalized and wasn't going to be coming out. This man's son was able to take his dad's beloved dog home long enough to find sanctuary for her. He found us. We are so lucky to have known this beautiful, gentle girl.
Maybe Mouse has found her person was there waiting for her.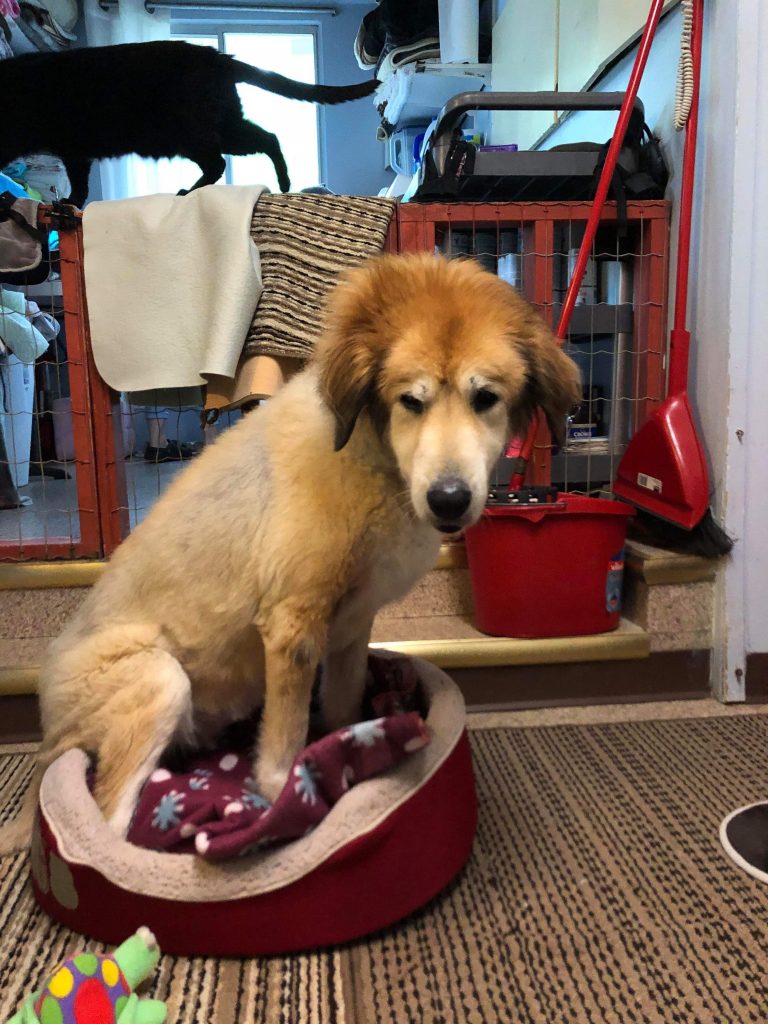 Charlotte has always been a very popular resident of SAINTS. She was not always the easiest pig to approach but despite that the staff, volunteers and visitors all loved her.

She had been getting progressively less able to get up from lying down and she was getting progressively exhausted with the effort of trying to right herself. On August 5th we made the decision to free her from the confines of her aging body. Char and Wilbur became Saints back in 2011 and were best buds. Wilbur passed away in 2014. It is our hope that Charlotte is now with her brother.

We all loved this big gentle girl and were devastated to say goodbye.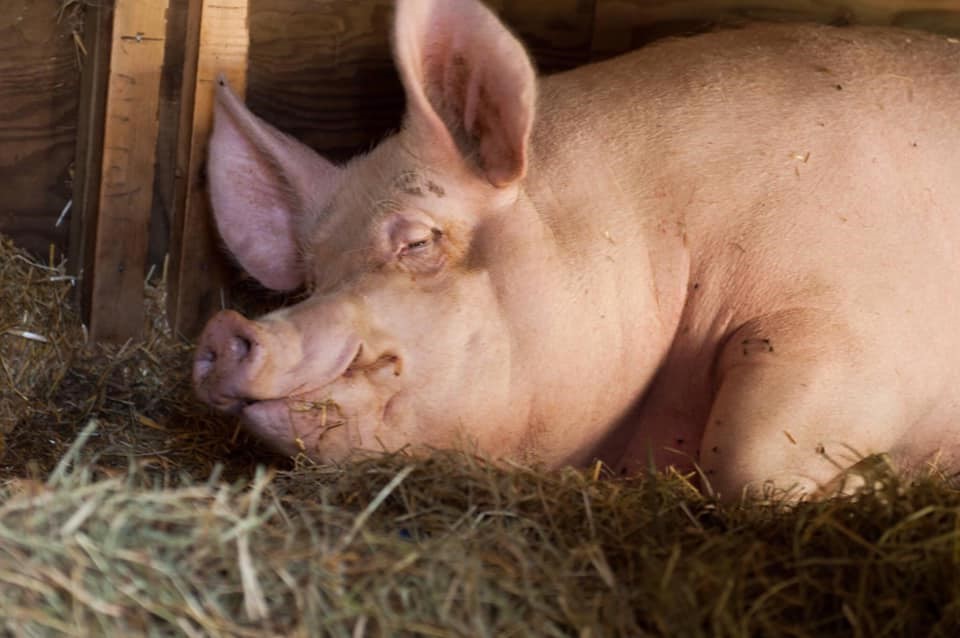 Miley came to SAINTS July 23rd. Her person had to move into a care home that does not allow pets. Miley is 12 years old, has a heart murmur and is missing her left eye. Miley is a doll that is so friendly.
And here is where something unexpected happened. Miley got a home they same day she came to SAINTS. Michelle and her son Jaden were ex SAINTS' Jojo's foster family and before him they fostered ex SAINTS Fernando. The week before Miley's arrival Michelle casually mentioned she was ready to welcome another. We didn't have a match at the time but July 23rd turned out to be a brand new day (in more ways than one!). Miley is now a permanent foster with Michelle and Jaden. Miley has really taken a shine to Jaden. It is adorable.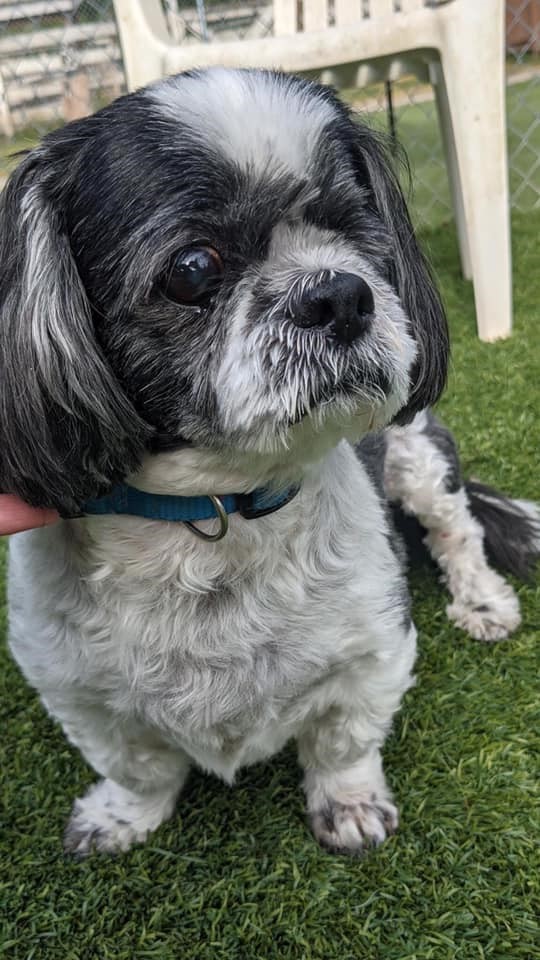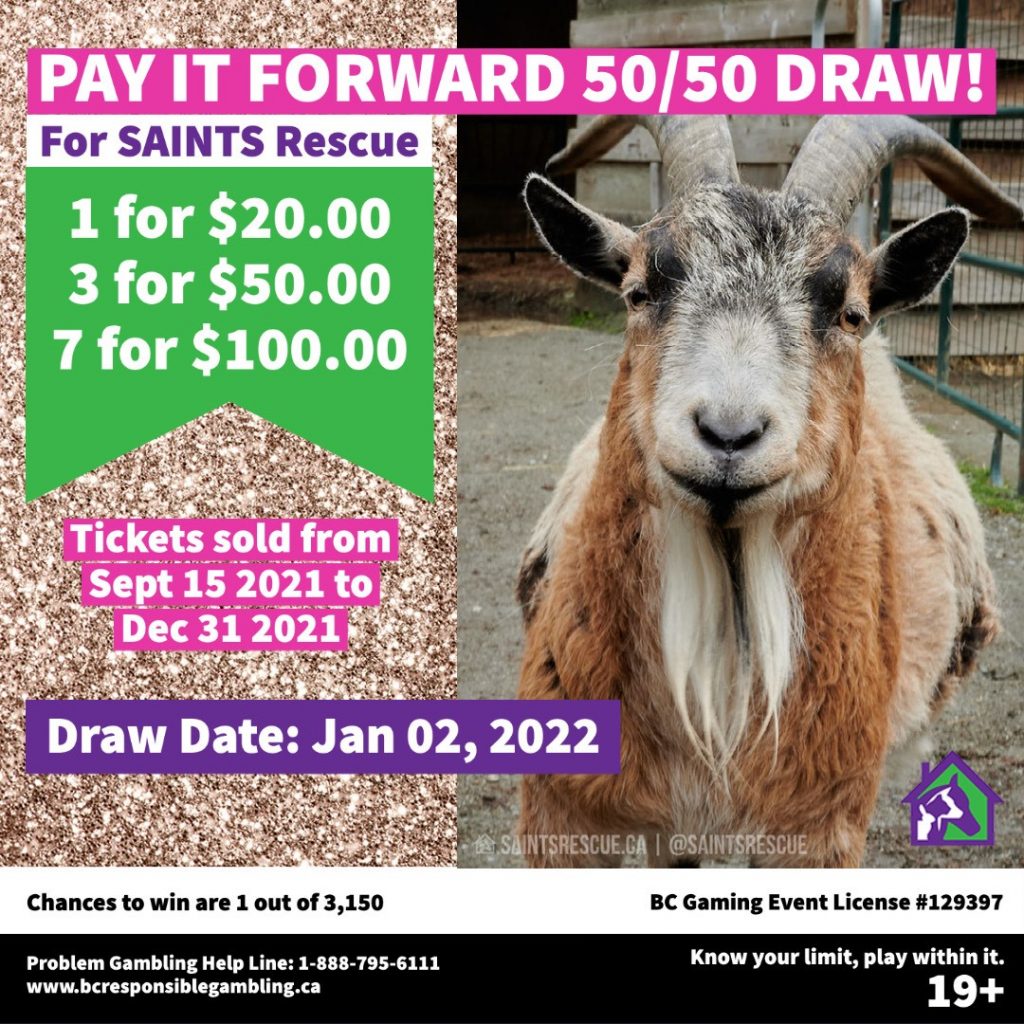 We are once again having our Pay It Forward Raffle this fall. The difference is that we have moved it up 6 weeks because once again COVID 19 is not allowing us to have a live charity event. Last year we were able to secure a grant with the government to cover the loss of the event. This year there is no grant to apply for so we are hoping an earlier lottery event will help to secure the funds we need to help pay our mounting medical costs. As of August 31st our vet bills have reached over $200,000 – a whopping $50,000 more than last year at the same time. This year we have gone back to a 50/50 raffle with a chance to win a possible $25,000. Our saintly residents thank you for helping them in the past and hope you will help again this year by purchasing a ticket.

Click here https://darelle.com/pp/bksrea/mailchimp to purchase a ticket.
"We pledge to love them, to care for them, and make their dreams come true. We promise each of them that they will never be alone again."