Action Alert: Sidney Island Deer: Demo Nov. 3rd 2023 Plus More You Can Do
We are passing on this important action alert from The Animal Alliance of Canada. Even if you can't make the demo, there are things you can do. For additional actions, information, and other resources related to the Sidney Island deer, please also visit our friends at Towards Freedom by clicking here.
You may have already heard that Parks Canada is planning a massive cull of all the deer on Sidney Island, BC. Sidney Island is located just off Vancouver Island.
The plan involves sharp shooters killing deer from helicopters and hunters and dogs on the ground shooting both wounded deer and healthy deer. Parks Canada's plan is to eliminate ALL deer from the island.
The flyer below sets out the details of the demonstration scheduled for Nov. 3, 2023 at 1 pm. Or you can visit the Sidney Island Deer Management Society website for more information: https://sidmsociety.com/
It would be wonderful if you could attend. But if you cannot there are two actions you can take to help:
1) Contact George Heyman, BC Minister of Environment and Climate Change Strategy. The Minister can be emailed at ENV.Minister@gov.bc.ca. Ask him not to issue Parks Canada the kill permits they are requesting.
2) Contact the Honourable Steven Guilbeault, the federal Minister responsible for Parks Canada and their actions. The Minister can be contacted at Steven.Guilbeault@parl.gc.ca or 613-992-6779. Ask him to direct Parks Canada to use only non-lethal methods to manage the park on Sidney Island.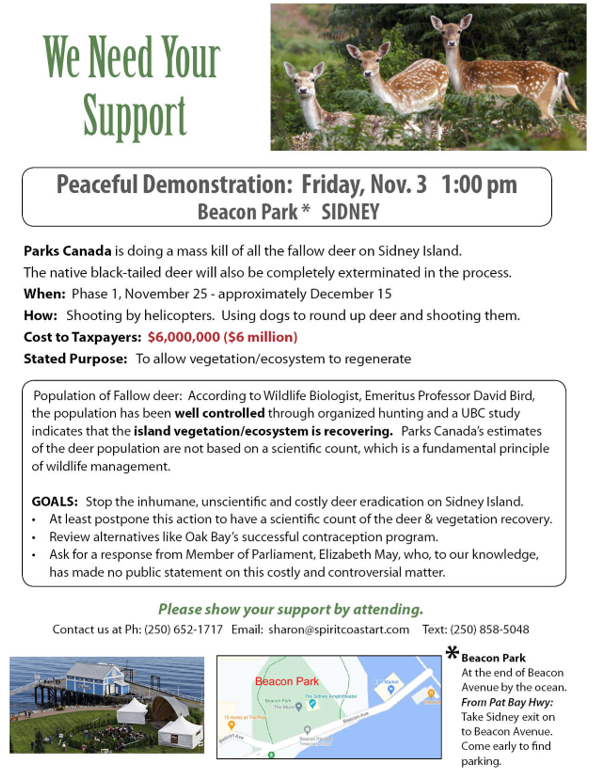 There is also a petition you can sign on this issue:


Thank You!