The ADAV Society of BC Presents Dr. Ray Greek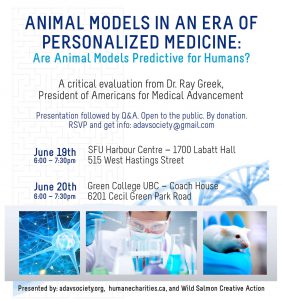 Dr. Ray Greek, author of the ground-breaking book "Animal Models in Light of Evolution" and President of Americans for Medical Advancement, a non-profit organization dedicated to improving policy and decision-making regarding the use of animals in biomedical research, is scheduled to speak in B.C. on June 19th and 20th.
Dr. Greek is a physician who is board certified in Anesthesiology with sub-specialty certification in Pain Management. He has taught at two of the U.S.'s most prestigious medical schools and has published five books as well as numerous articles in both the scientific and non-scientific literature (see links below).
Please join us for this incredible opportunity to hear one of today's greatest minds speak about the fallacy of animal research!
Articles by Dr. Ray Greek
Animal Models in an Age of Personalized Medicine
Animal Models in Drug Development